WORKSPACE : FLExibility and utility
With a Workspace for all your specific needs and an amazing work-culture for value addition, Unboxed Coworking space in Noida is redefining the way people work .
COWORKING SPACE DESIGN
Unboxed's shared office space has been strategically planned to create a balance of private and collaborative areas catering to the need for focus and interaction. Open & connected work halls, Semiprivate work-clusters & private cabins for teams have been complimented with a variety of other collaborative zones to instigate interactions and networking opportunities .
Ample of natural light & access to outdoor green spaces causes anxiety and stress at work.
MANAGEMENT FREE
Unboxed's shared office space is equipped with complete facilities like High-speed internet , Powerbackup , Admin and IT Support , Meeting and Conference spaces , Caferteria , Printers & scanners. Its an office space providing a completely managed solution so that your focus remains on your work !
The powerful networking culture provide a conducive environment for business and personal growth . The flexibility of use and immense energy that surrounds the office make it a great replacement for working from home !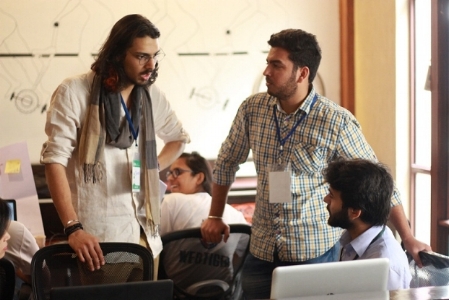 The great work culture helps in both hiring and retention of young talent so critical for startup growth. Scaling up is both convenient and affordable !
Event and workshops meant for learning , experimenting and focused towards grow are all critical additions to the overall experience of the Unboxed coworking space !
CULTURE : DIVERSITY AND SHARED VALUES
Freelance photographers , Social Impact Startups , Architects , Coders , Content writers , researchers , TechStartups , Professionals like CA , Lawyers , PR etc and many other people from diverse fields create a rich mosaic culture that runs through the Unboxed Community.
Multiple Events in-house and through partnerships and a workspace specifically designed for interactions provides a conducive environment for collaboration and networking to thrive. The community acts as one big family where coworkers end up working together , hiring each other , learning and mentoring each other and providing an overall culture of support, conducive for individual growth.
Events, past and upcoming are meant as catalysts to trigger your imaginations, learn new things, develop industry specific skills, network and grow together and the workshops to get your hands dirty, do things in real-time, make and break , bring-out the creator in you
The collaborative work culture and informal networking events brings forth the richness and value of the diverse Unboxed community. Many shared experiences , ideas, business opportunities , resource sharing , recommendations are brought to life through a powerful network.
With a progressively demanding professions, we embrace work life integration over work life balance. Unboxed has a holistic approach to work, enabling people to focus on their work along side social , physical and mental well-being as an intergral part of their working style.
AWARD WINNING DESIGN : RECOGNITION
Unboxed Coworking is ranked among the most celebrated work-spaces in the country. It has been covered by various architectural and design publications for its planning and eccentric design values.
Unboxed is an experimental coworking space in Noida that aims to create a holistic work culture . Its well designed office space , holistic workculture and a thriving community makes it an ideal workspace for your team. It's simply the best shared office space in Noida, providing a Hassle free, Flexible & cheap alternate to traditional fully furnished office space on rent .
TAKE A 3 DAY TRIAL TODAY - GET UNBOXED !